Rabbi Shmuel Veffer – Torah from the Galilee
Inventor, Entrepreneur, Author and Rabbi all rolled into one.
A Few Sample Topics
Jerusalem
– Why everyone wants a piece.
Rabbi Veffer examines the current political controversy over Jerusalem including his own son suing the Canadian government for refusing to record "Jerusalem, Israel" in his passport. Adding the Torah perspective provides a fascinating new look at current events.
Miracles
– Why they happen, and why they don't
Did you ever wonder why miracles seemed to happen all the time in the biblical era, but they don't anymore? What happened? Why can't God just make a little miracle and help me win the lottery?
Did you ever wonder why beer is forbidden on Pesach, but matzah bagels are permitted?! If you thought avoiding chametz was only symbolic on Passover, you are in for an awakening as Reb Shmuel reviews the medical and biological literature and combines it with Torah sources to make an amazing discovery that will forever change the way you relate to the Kosher Laws. (Watch a 30 minute webinar on this topic)
Some other Lecture Topics
What do we mean by Holy? What do the Holy Land, Holy Sabbath and Holy People have in common?
When good things happen to bad people
Do angels have wings?
The Purpose of Creation and Finding Your Own Purpose
What does FREE WILL really mean?
Is there a future for Jewry in America?
Was Moses a Democrat or Republican?
Understanding the Arab/Israeli conflict through the prism of Torah
The three main challenges to American Jewry and how to face them
How should we pick our leaders?
What really happened in the Garden of Eden?
Please browse these articles, podcasts and video webinars for other ideas. You can explore some of the themes he has written about here at the Times of Israel
Contact us for a full set of topics or we can tailor a specific topic for your group
About Rabbi Veffer

Rabbi Shmuel Veffer is most widely known as the inventor of the KosherLamp and founder of Kosher Innovations.
However he has been a leader in Jewish education and outreach for over 35 years. His breadth of experience in so many areas and his clear articulate delivery help make complex ideas seem simple.
Reb Shmuel brings the world, and world events into focus through the lens of Torah.
He has spoken around the world from Cambridge University, to the Old City of Jerusalem.
Rabbi Veffer has combined his mathematical and scientific background with his Torah knowledge to deliver seminars throughout North America.
He has been interviewed by National Public Radio and has been featured in the New York Times, the National Post and Mishpacha Magazine.
Born and raised in Canada, he has lived in Israel over 25 years.
He served in the IDF. A father of six, he currently lives in Tiberias in the Galilee.
Publications
Best-selling author under his pseudonym "Charles Samuel" of The Jerusalem Conspiracy.
A political thriller dealing with the Oslo accords that helps set the record straight by presenting the "Torah community" in a very real and deep way.
The novel interweaves Torah philosophy with the plot in a way not usually encountered by the secular reader.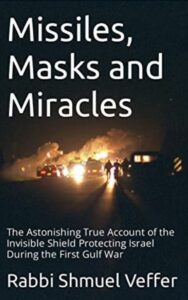 Missiles, Masks and Miracles is a chronicle of the miracles that occurred in Israel during the first Gulf War.
In it Rabbi Veffer manages to subtly make the reader aware of the hidden Hand of God in history.
Education/Work History
Rabbi Veffer has an honour B. Math degree from the University of Waterloo where he majored in computer science and business. He received his Rabbinic ordination at Aish HaTorah. He worked for many years as a management consultant and was part of a research team designing nuclear medical diagnostic equipment.
He worked for over 20 years in full-time Jewish outreach where he initiated many educational programs and spoke frequently around the world. Rabbi Veffer and his family spent eight years in Toronto at the Village Shul, where he was in charge of outreach and education.
He was senior lecturer for 6 years at MTC, a post-highschool seminary for English-speaking women in Netanya. He also is the co-founder and current CEO of Galilee Green, which markets locally-produced extra virgin olive oil to subscribers around the world.
What Participants Take Home

Participants in Rabbi Veffer's talks walk away with a clarity of the harmony and unity of the world, its events and the Torah. Reb Shmuel focuses on the big picture which allows the audience to connect seemingly random details and events into a meaningful whole.
To arrange for Rabbi Veffer to speak with your tour group at your hotel in and around Tiberias in the Galilee – Contact Us Here